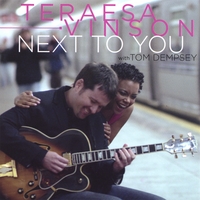 I just got my copy of this beautiful record by the talented and gifted upcoming Harlem singer Teraesa Vinson (whose equally great debut CD I had mixed a few years ago). The album is simple and beautiful: just one voice and one guitar! It features the opening title-track, written by Dempsey, and 11 jazz arrangements of tunes by Jobim, Stevie Wonder, Ellington and others.
We recorded the entire thing in one day and mixed it in another day. Pure and unadulterated signal path (great mic and pre-amp on her and two mics on the guitar) a little reverb, a little overall compression and virtually no editing (with musicians like these words like comping vocal tracks, auto-tuning etc luckily are never even uttered).
Vinson's drummer Dion Parson produced the record and you can buy it at CD Baby.